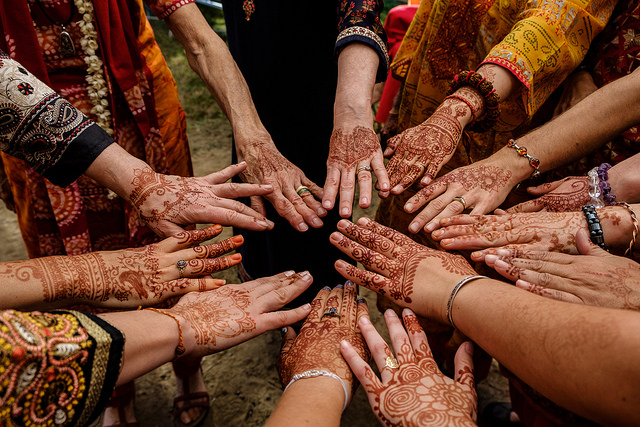 Traditional Indian Body Painting: Mehndi
More commonly known as Henna Tattoos, Mehndi is a ceremonial, decorative art form which originated in the ancient India. They are centered on the idea of "awakening the inner light", reflecting inner beauty outwardly. Customarily the main application of Mehndi's elaborate designs are on a bride for her wedding. We offer Mehndi Art for weddings, parties and other celebrations throughout New England. Please inquire for rates and availability.
Private Teachings
We are very happy to share our extensive, collective Yogic knowledge in the comfort of your own home, or place of choice. Any of our offerings, from Yoga Classes to lectures on Yogic Healing, are available for you and your close friends and family. Please contact us for more details.
Lectures & Presentations
Looking to add something new to your event? We give talks on:
The classical approach to Yoga and its application to daily life

Nadi Vaidyum, The Ancient System of Yogic Healing

Rasayana, The Ideal Supplements for Ultimate Health

Mitahara, Human Beings Natural Diet

To name a fewPlease contact us if you would like to book a Presentation near you.
Yoga Classes & Intensives
We offer many different classes to learn detailed movements, Pranayams "breathing mechanisms", Asanas "postures", bhandas and mudras "energetic movements". Coupled with meditational aspects these techniques enable more focused attention on the present moment and on your true self.
Pranayam "Expanding the Life-force" Yogic Breathing Intensives

Samyama
Traditional Yogic Ceremonies
Kirtan & Bhajan Musical accompaniment for celebrations and ceremonies

Puja "Worship" Ceremonies for celebrations and dates of significance

Yagya Fire Ceremonies

Griha Pravesh "Housewarming Ceremony"

Teej Festival Puja

And more…
Contact us for details. Om Namah Shivaya!